Our Family Valentine's Day Table
Yesterday we celebrated Valentine's Day like we usually do "Family Style". What exactly does that mean? For us it means that our youngest spent the night before filling out her Valentine's Day cards for her school Valentine exchange and party. It was a somewhat long process as it involved determining who was going to receive what Valentine. She only had four styles to choose from, but since she's only 7 the process did involve considerable thought.
My husband had taken a personal day off from work so that we could accomplish several run of the mill things (doctor appointment, car oil change, visiting Grandma in a nursing home, etc.). I was looking forward to a day spent together doing nothing fancy ~ just being together sans kids. A little wrench was thrown into the plans when our oldest came down with a virus, but no problem we just ferried her off to Grandma's house as it was one of the "non stomach" viruses.
Our table centerpiece ~ mini roses
that we now get to plant in our
flower bed to commemorate our day.


Our Valentine's Day culmination always ends with a special family dinner....the table is decorated, little gifts are exchanged and we try to keep the table-scape and food theme either Red or Pink. This year's food was spaghetti and meatballs so we went with a Red theme.
My hubby and I had a wonderful day, his grandma was happy to see us and loved the little Valentine's cards the kids had made (she enjoyed the cookies too). I am not sure how much of our visit she will remember as she suffers from mild dementia, but we did put the cards on her bulletin board. Prior to visiting Grandma we went shopping to the Dollar Tree (love that store), so we had fun picking up bargains for a buck.
Homemade Valentine's Card - Love,
Love, Love this!
I was in charge of dinner and decorating this year (my husband & I switch off each year). I set up the goody bags and decorated the table while cooking. Our dinner included spaghetti and meatballs, steamed broccoli and cauliflower, garlic bread, and carbonated fruit punch to drink. Everyone loved it and we had a great time talking and sharing.
Of course it seems like it is Murphy's law that there always seems to be a flip side to everything, at first I thought that our flip side was that our oldest daughter was sick, but alas that was not it ~ it was the curse of the Valentine's Day nay-sayers. You know who I am talking about, the people who have determined that Valentine's Day is too commercial so they don't celebrate it, or those who say that they don't have to celebrate it because everyday is Valentines Day for them, etc., etc.
It kind of left me with a bad taste in my mouth (like a sour burp) and it almost seemed like a put down to the rest of us who do celebrate Valentine's Day. I have to admit that I did get a little offended hearing this, because after all many of those same people are Christians who still celebrate Christmas (although it is highly commercialized & they are already Christian throughout the year) or they are the same people who eat all year, but still celebrate Thanksgiving, or a Mom who celebrates Mother's Day or Easter or St. Patrick's Day, or hey don't forget about Independence Day.....
After much contemplation I realized that I had to
put it all behind me
and realized that these people probably were
not trying to put down the rest of us
who celebrate this holiday, but rather they were just trying to find an excuse that seemed reasonable as to why they did not.
So in closing I want everyone to know that we will be wearing Green on St. Patrick's Day and probably be eating corned beef and cabbage (even though the holiday is becoming commercial) and I will be sure to take photos and write a blog post about it and ditto for when we celebrate Easter, Mother's Day, Father's Day, 4th of July, Birthdays, Christmas, etc., etc.
Now that I've managed to ramble and clear the air it's time to close this chapter......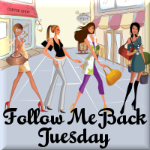 Not to be forgotten
, I am participating in "Follow Me Back Tuesday".